Discography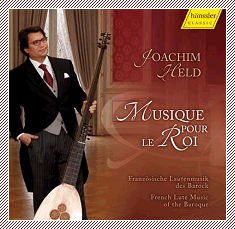 Musique pour le Roi
French Lute Music of the Baroque

Joachim Held, Lute





Release Date: 2008
Label: Hänssler Classic
ASIN: B001ARARUK

Buy this CD: Amazon.com / iTunes

Tracklisting

Click here to launch our Audio Player

CD Information
"After his jouney to Italy "Che Soávita" Joachim Held now stops with his Solo Recital "Musique pour le Roi" at the Houses of Nobility in France of the Baroque. For this he chose Suites of composers like Jacques Gallot, Charles Mouton and Robert de Visée, who were high esteemed Lutenists who worked near to the highest Nobility like Louis XIV. Since the recordings of Helds teacher, at the latest, Hopkinson Smith these names are known not only to Early Music Enthusiasts. Thank to Joachim Held, who made the lute more popular in the last years, the worth of this precious music will be increased many times.



Superficially the dances follow the normal Suite. Even in the old recordings of Konrad Ragossnig and Anthony Bailes, one could could imagine the internal gestures of this "sound microcosm", but Held fulfills the concentrated Rhethoric with a variety of Colours and Variability which is only rarely heard. With the Theorbo and 11 - course Baroque lute, which both are from the workshop of Klaus Jacobsen in London, he plays with a admiringly clearness for the contrasts of tension and intensity, which point out the strictness and dignity, Contemplation and Calmness in perfection."
Rondo Magazin - 10.10.08 / Guido Fischer


"In his series of publications the award winning Joachim Held devoted himself to the different traditions of compositions for the family of the luteinstruments: Works from Germany and Habsburg play an eminent role, lately Held worked on the italian repertoire. Now he devotes himself to a very special repertoire – the compositions in the area of the french King Louis XIV. for the Lute. The rich tradition is based on experiments with the tuning of the lute and a creative stylistic treatment of the possibilities of the instrument.


Ennemond Gaultier (1575 – 1651) was one of the moulding personalties, followed by a.o. Charles Mouton (1617 – before 1699) or Jacques Gallot (? – 1690). These Masters brought out the "stile brisé": finely woven compositions combined with a complex technique of composition, the melodic lines are interrupted. An artificial Mixing of the voices increase the impression of complexity and gives the dance movements an artificial character.


Very successful


Also in this repertoire Joachim Held moves very secure and prudently: He presents himself technically strong, precise and with equally beautiful and reserved. The single movements are not shaped to strong characters but embedded in the whole texture. His fine sound - production shapes the works with not too much energy – which seems to be the perfectly right way. Because the rewarding pieces, which are more reflective then full of temperament need a fine treatment, which Held – never an interpret with too strong pressure – follows all the way through this recording. I addition to that the production was recorded with a very clear sound, which reflects perfectly the structure of the music and every register of the used instruments.


All in all this is a very fine interpretation of this special repertoire, which probably will take an important part in the Discographie of Joachim Held who follows pass as interpret in a convincing manner."
Klassik.com - 31.08.08 / Dr. Matthias Lange












© Joachim-Held.com / All rights reserved / Disclaimer